My friend Frank in New York asked me to make him a Pussy Cap that echoed the colors of the Daylight Pacific train and this is what I came up with. It combines 7 different yarns that include various blends of cashmere, alpaca, merino, silk, wool and mohair. 
Click here
 to read what he had to say about it.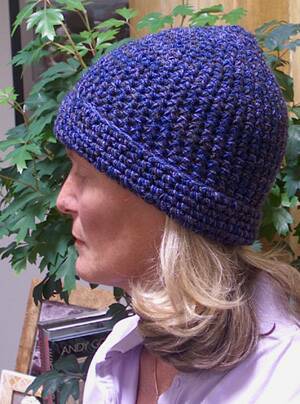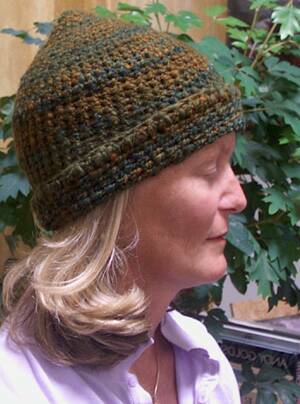 My friend Chris has purchased several different Pussy Caps from me and is modeling two of them for us here. Hover over the images with your cursor and you'll see a closeup of the yarns. Both caps are pure Merino wool. Very different looks but both are beautiful and amazingly soft. Not at all what you would expect from wool.

Actress 
Judith Chapman
 is modeling a Pussy Cap made from tan alpaca & wool with white Italian cashmere woven into the border.
Benji is wearing the Pussy Cap that he got for his birthday, one of the very first ones I made. 

Cool, huh? 

My longtime friend and fellow photographer 
Jodi Richfield
 slipped on one of my Pussy Caps awhile back and let me take some pictures of her on the beach in Laguna. Jodi is a former model and one of the very first people I photographed back when I was getting started in the business some twenty+ years ago.
The Pussy Cap Jodi's wearing is crocheted with an olive-green alpaca/wool blend from England and then accented with a pure silk ribbon yarn from Japan, both of which really bring out her beautiful emerald green eyes. Her son James is wearing a Pussy Cap made with alpaca, merino and yak down.

There's more pictures, lots more.

Maurice & Jan above in their Pussy Caps. 

I know you're going to find this hard to believe, but this is their son Jace.

This is me on the beach in Laguna wearing one of my favorite cashmere Pussy Caps. The picture was taken by my friend Richard. 

Aaah...

Alex and Beth having a moment in their Pussy Caps. It looks like Alex is going to have to grow into his.

My friend Kristen in her custom Pussy Cap!

My daughter Auri wearing a funky styled Pussy Cap on the beach in Laguna. 

Adorable doesn't even quite begin to cover it...

My precious Paige in a thick merino wool Pussy Cap that I made especially for her. 

Rafe is showing off not only his fabulous new Pussy Cap but his striking profile as well.

Thanks for sending along the picture Rafe. Nice to have it in the collection.

San Francisco sisters Barbara and Billie Parker in their Pussy Caps. The gals came to visit me at a show on the wharf in San Francisco where I was crocheting at a booth for a yarn vendor. I absolutely love the unusual way they wear their caps!

My grandson and namesake Aidan Thomas in a Pussy Cap he inherited from his older brother.