Here's a couple more pictures I took of Wes in one of my Pussy Caps during a shoot at the beach in Laguna.

I wore this Pussy Cap to the beach the same morning that I finished making it but left it lying in the sand when I took off. When I went rushing back to find it some thoughtful person had put it up on a rock so I'd be sure and see it. 

I figured that was a sure sign that this cap belonged with me so I kept it instead of selling it.

We tried again later and this time she stayed on her feet long enough for me to get this picture of her in a cap that's made with yarns from Japan and Italy.

Moments after putting on a Pussy Cap for the first time my good buddy Lisa slipped into a swoon and passed out. She came to though when I pulled it from her head and hid it behind my back where she couldn't see it. 

My daughter Auri in her Pussy Cap...

...which she loaned to my grandson Tristan for this shot.

When Tristan was born he got a crotcheted baby blanket from grandpa that's made from 
qiviut
 and his sibling Aidan who was born recently got a couple of Pussy Caps, one from baby alpaca and another made with cashmere. Their little sister Taryn got a Pussy Cap as well. I think my grandkid's heads will never get cold.
Auri, who's a Registered Nurse and works in a maternal birth unit, also has an angora/mohair baby blanket that I crotcheted for her when she was little and a Merino wool scarf I made for her when she was staying with me in Italy a few years ago. I think there's another Pussy Cap or two in her future...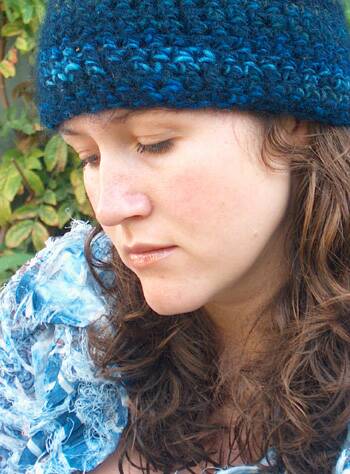 Here's Auri again in a Pussy Cap crocheted from an indigo Japanese yarn that's accented with blue Italian mohair. Roll your cursor over the image to see another view of it.

Auri and her best friend Erica recently came for a visit and I pressed them into service modeling some of my Pussy Caps. I have no idea what they're laughing about but I think it's a girl thing.

This is an unusual silk yarn from Nepal that was handspun using bits and pieces of recycled saris. The cap Erica is wearing below is made from black cashmere, lambswool and a colorful ribbon yarn from France.

Here's Mitch in his Pussy Cap up in the Canadian Rockies...

I've been making stuff my whole life - I think I drove my mom crazy when I was younger because there was always a trail of unfinished projects behind me a mile long. I like putting things together and making things happen. I have no idea where creativity comes from but it's been driving me for as long as I can remember. 

Crocheting Pussy Caps satisfies something really primal in me. I get excited about the yarns and the way they work together and sometimes I'll have as many as five or six caps all in progress at the same time - I'll be working on one and something in my head triggers an idea for another and I have to start it right then and there before the idea's gone.

It's fun and it keeps me entertained.

From time to time here in these pages you'll see pictures like the one to your left. They're scans that I've done of Pussy Caps showing a highly magnified detail of the yarns. This particular scan is of a natural colored tan 
alpaca
 and two strands of handpainted 
Merino wool,
one blue and one periwinkle.
To learn more about the yarns I use and why I like them click on The Yarns link on the navigation bar or on one of the words on the left side of the page.

On October 12th, 2004 Auri gave birth to little Aidan Thomas and my hands were there to catch him as they were for his mom and his big brother Tristan. With me to the right are my grandsons in their matching fuzzy Pussy Caps and Aidan below in another one that I made for him out of cashmere.

My daughter Auri in a downy soft Pussy Cap made from hand-spun angora fur in its natural dove grey that's been coupled with pure Bombyx silk in garnet red.

I made her and the cap too. 

How 'bout that!

Out of all of the hundreds and hundreds of Pussy Caps I've crocheted I've only kept six for myself, and this is one of them. (OK, I'm up to about 12 in my personal collection now.) If you could feel it in your hands for only a moment you'd understand why I kept it for myself. 

The lighter bands are a blend of natural colored camel & yak down that was handspun by Lisa Souza and the darker bands are a natural black llama that was handspun by Marsha Berkemeier with fibers from her own llamas.

I knew when I was making this cap that there was something really special about it - couldn't quite put my finger on what it was but after wearing it for a few minutes I knew I was going to be keeping it. 

My friend John snapped these pix of me showing off my Pussy Cap and new red Pumas up on top of Mt. Tamalpias.

Jan and her husband Maurice in their Pussy Caps. Grandson Dryden doesn't appear to have a Pussy Cap though. Ahem...

This is one of the Pussy Caps that Lisa took with her to Paris so we call it her Paris Cap. It's made with Koigu Merino wool, (handpainted by Canadians Maie & Taiu Landra) and is joined by a soft strand of natural black Peruvian Alpaca.

Barbara & Sean in their Pussy Caps on  the train to Machu Picchu, Peru

And Barbara on the Amazon still wearing her Merino cap